Omni Hotel at CNN Center, Atlanta, GA

Downtown Atlanta Hotel Near Fun Attractions
by Tommy Ford

The Omni Hotel at CNN Center offers 1,067 premium guest rooms located conveniently in the middle of downtown Atlanta, across from Centennial Olympic Park. Valet parking is provided.
Several packages are offered which include lodging at the Omni along with tickets to Atlanta attractions. There is a spa on site along with a fully equipped fitness center and an outdoor heated pool.
Check-in was a breeze and the front desk staff was very attentive. They went out of their way to be sure we received the proper tickets for the attractions included in our package.

We accidentally left our credit card at the desk. The staff not only called our room within minutes to advise us that they had the card but also offered to bring it to us. Our luggage was delivered quickly, actually beating us to the room.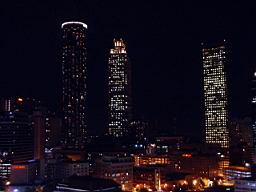 Our rooms were located on the 23rd floor overlooking the park and the Atlanta skyline. At night we could watch the light show at the fountains in Centennial Park from our window.
Each room contains high speed wireless internet access. The floors are marble with granite countertops in the bath. A coffee maker and hair dryer are also provided in each guest room. Room service is available for those who want to dine in the privacy and comfort of their room.
The Omni is connected to CNN Center which contains many shops, including a bookstore, and various fast food restaurants for when you want a quick snack.
If your idea of a hotel breakfast is cold cereal and warm milk you will be very pleasantly surprised by the breakfast buffet offered in the Omni's Prime Meridian restaurant. Made to order omelets, delicious baked pastries, along with fresh fruit provide a meal that is far above the ordinary. No one in our party left hungry that morning. Our only regret was that we had to leave before dinner.
Downtown Atlanta has a big city feel but remains easy to navigate even for those, like us, more used to open roads than urban streets. If you're taking in the local attractions, the Omni is located within easy walking distance of the new Georgia Aquarium and the Coca-Cola Museum.
Georgia Aquarium


The Omni's central location makes it a perfect place to leave the car, put on your walking shoes, and hit the sidewalks to see what this city has to offer.

We would like to thank the Omni Hotel at CNN Center and Edelman Atlanta for their hospitality and for assisting with our feature.
Omni Hotel at CNN Center

*
100 CNN Center
Atlanta, Georgia 30303
Google Map
1-866-940-1794
* We recommend the
"Sip and Splash"
Package, which includes tickets to the New World of Coca Cola
and the Georgia Aquarium.

The Omni Hotel at CNN Center is one of 50 luxury Omni hotels and resorts located in the United States, Canada, and Mexico.

Known for providing a high caliber of guest services, read more about Omni Hotels & Resorts.



GO USA cards - unlimited FREE admissions to top attractions!
check our exclusive specials

Travel America Tshirts & More
Arches | Grand Canyon
Glacier-Mtn. Goat

Best Rated Hotels

Advertise with Southpoint