Bodie State Park, California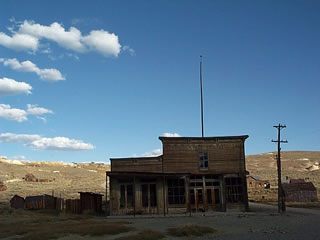 The Wild West Ghost Town of Bodie
by Carl Burnham

The streets are quiet in this once bustling remote town which once housed nearly 10,000 souls on the eastern side of the Sierra Nevada Mountains. The old Wheaton Hotel's only guests now are a few ghosts. Tumbleweeds are pushed along by the steady winds. Today the town is preserved for all to see as the Bodie State Park.

Watch a video of Bowie
Due to the remote nature of the park, plan your visit carefully as the weather can change quickly and there are few gasoline stations or accommodations nearby. When you visit, if RVing and staying awhile, consider volunteering at the park. You gain a background on the full history of this rowdy town where the gold rush came and built up the town and then left it for other rushes in the area.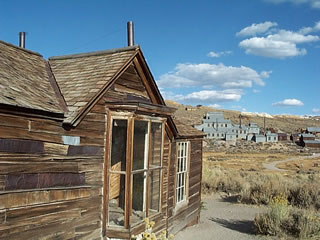 Murphy House at Bowie
The Murphy House sits with view of the Standard Company Mine operation in the background which transformed the camp into a town.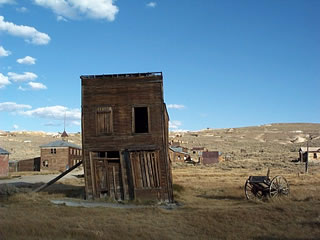 The Swazey Hotel has seen better days
As you walk the streets you see signs of how bustling the town was. The town first received electricity way back in the 1890s. A gas station now sits vacant, with old wagons nearby. The buildings and houses in town show that it was a thriving place. It is fascinating to look inside the windows. In some it seems, except for the layers of dust, that the people will be back soon to take up where they left off.

Take your time and ramble along the streets and look inside the windows. Photographers and historians will love this place. Plan to spend at least a day here.

View more photographs of Bodie via our Facebook fan page.


GO USA cards - unlimited FREE admissions to top attractions!
check our exclusive specials

Travel America Tshirts & More
Arches | Grand Canyon
Glacier-Mtn. Goat

Best Rated Hotels

Advertise with Southpoint