Louie's Backyard Bayside Dining & Cocktails
South Padre Island, Texas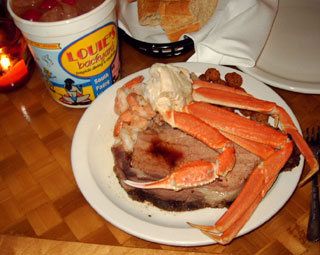 Fine Island Dining and Fun Times at Louie's
by Carl Burnham

Providing nightly entertainment and fine dining, Louie's has great views of the Atlantic Ocean from many vantage points. Meals are served daily for lunch and dinner, ranging from steaks, seafood, and specialty dishes.



View video of Louie's Backyard
at South Padre Island
For our evening meal, we chose the all you can eat seafood buffet, as the selections are numerous and freshly made.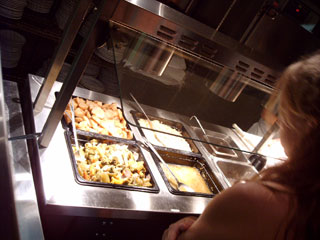 Seafood Buffet at Louie's Backyard
The seafood buffet servings included:

Prime Rib | BBQ Ribs | Mixed Vegetables | Fresh Fruit
Snow Crab Legs | Scallops | Crab Cakes | Fresh Bread
Fish (Blackened or Fried) | Hushpuppies | Salad Bar
Shrimp (Boiled or Fried) | Baked Potatoes | Fruit Salad
Pasta Salad | Corn Salad | Cucumber Salad

We found all the buffet selections to be fresh and delicious, and especially enjoyed the snow crab legs. David our waiter, was on top of his game, giving exceptional service and advice on places to see around the island.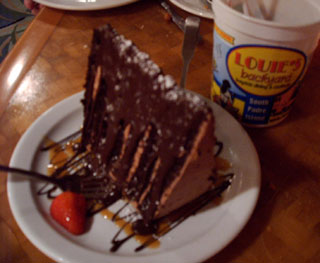 Try the "Death by Chocolate" Cake
You will come close...
The "Death by Chocolate" desert is a six layer of triple chocolate high rise cake, with carmel and strawberry. It was almost too much for the both of us, but oh so good.
Afterwards, we checked out the Afterdeck Bar for the music being played. During the summer every Friday evening, you can view great fireworks displays over the water. Free Internet Wi-Fi is available at Louie's.

Hours of Operation:

Louie's Backyard Downstairs Restaurant is open
Mon-Thurs from 4 pm till 9 pm
Fri-Sat from 4 pm till 9:30 pm
Closed on Sunday
Sports Bar is open Mon-Fri from 4 pm till 2 am
Sat-Sun from Noon till 2 am
Food is served in the sports bar until 10:30 pm.
We would like to thank Louie's Backyard staff for assisting with our feature.
Directions:
View Google Map

Located just over the Port Isabella Causeway on the island. Turn left at Padre Blvd. Turn left on W. Marlin St., then turn right at Laguna Blvd.

Louie's Backyard
2305 Laguna Boulevard
South Padre Island, TX 78597
956-761-6406


Louie's Backyard in Focus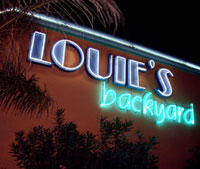 Update
: Following Hurricane Dolly, Louie's backyard is now re-open and welcoming all!
Louie's Backyard is a true entertainment hub on South Padre Island going on for over 30 years.
Nightly entertainment includes karaoke, music, and a live DJ. During Spring Break every year, it is THE place to be for out-of-towners as Louie's fills to capacity for national hip hop and other singing acts that entertain, plus the nightly Miss Hawaiian Tropic bikini contest.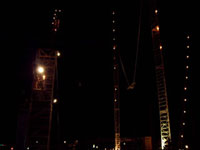 Just in front of the entrance to Louie's is nightly bungee jumping. After our huge meal, I couldn't coax Rhonda to try.
For the adventure seeker, it is the second tallest tower in North America. For more ground loving adventure seekers, they may want to try the drink dubbed the "hurricane on steroids" (aka, Charlie's Cherry). The Whammy signature drink was plenty enough for me.

GO USA cards - unlimited FREE admissions to top attractions!
check our exclusive specials

Travel America Tshirts & More
Arches | Grand Canyon
Glacier-Mtn. Goat

Best Rated Hotels

Advertise with Southpoint