Feature Attractions - Billy Bob's Texas, Fort Worth, Texas
by Carl Burnham



Located in Rodeo Plaza of the Stockyards Historical District, Billy Bob's is known as the World's Largest Honky Tonk. To say that Billy Bob's is a big country music club is an understatement, covering an area of almost 7 acres in true Texas style with lots of live entertainment and events.

From exciting bull riding events, to dancing, pool playing, casino-style games, food, drink, and music entertainers, there is always alot to see and do. A large dance floor provides plenty of room to do the two-step and strut your stuff, as a large gold reflective saddle rotates above. Free dances lessons are available every Thursday evening. Bar stations are everywhere for you to wet your whistle.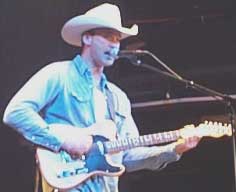 Wade Hayes wowed the crowd while we were there, playing songs off his albums, including his big hit "Old Enough To Know Better." Since 1981, Billy Bob's has showcased top country music entertainment, including the legendary Waylon Jennings, Merle Haggard, Johnny Cash, Willie Nelson, and many others. The talented Wade Hayes (see more below) performed the night we were there. Billy Bob's is also a showplace for Texas entertainers, including our most popular, Kevin Fowler, who we predict will be big once he goes national. Popular music entertainers have played there as well, including B.B. King, ZZ Top, and .38 Special. The first performers to play after opening in 1981 were Larry Gatlin and the Gatlin Brothers. .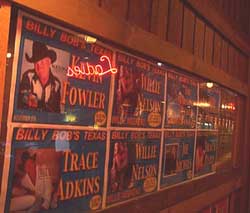 A popular CD and DVD series, "Live at Billy Bob's" includes over 28 quality recordings of entertainers who have appeared at Billy Bob's. We have two in our collection now. With sadness, we note the passing of Rick Smith, 47, who was the producer of the series. Lined along the walls are upcoming acts that will be appearing at Billy Bob's, plus photographs and memorabilia of past shows.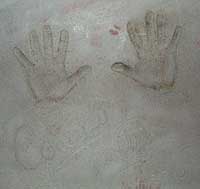 There is a special wall section which commemorates the entertainers that have appeared over the years, with their hands imprinted and signature. Shown here is the imprint that Conway Twitty made in the early 1990s. There are also several rooms that can be reserved for parties and private events. Families with children are always welcome at Billy Bob's (if under 17, must be accompanied by a parent).



Live professional bull riding is held every Friday and Saturday at 9 and 10 p.m., with only a nominal entrance fee of $2.50. Several pro bullriders get their chance to win prize money as they excite the crowds. Some of the bulls got good and ornery the night we were there.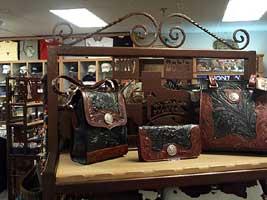 Be sure to visit the Billy Bob's store, which is stocked with essentials for the cowboy and cowgirl, including cowboy hats, leather goods, and gift items.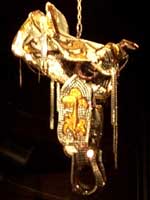 When first seeing Billy Bob's it may seem a little familiar. For good reason, Billy Bob's has appeared in numerous television shows and the movies, including "Dallas", "Walker Texas Ranger", "Pure Country", and "Baja Oklahoma".

Billy Bob's is located at 2520 Rodeo Plaza.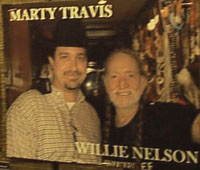 We would like to thank Marty Travis (shown here with the country music legend Willie Nelson) and staff during our visit for helping with our feature.
Read about our followup visit for a performance by Kevin Fowler.

Billy Bob's Texas


2520 Rodeo Plaza.
Fort Worth, Texas 76164
1-817-624-7117


Fort Worth Hotels

Top of Page