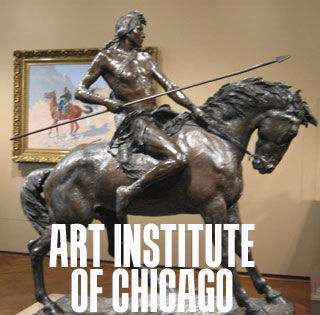 A Fine Collection Indeed: Art Institute of Chicago
by Tommy Ford

Founded in 1879 the Art Institute of Chicago houses one of the most extensive collections of art in America including such enigmatic works as Grant Wood's "American Gothic," and the bronzes of Frederic Remington.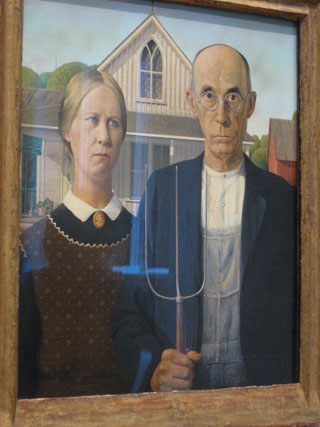 American Gothic
The most enigmatic work at the Institute has to be, in our opinion, Grant Wood's American Gothic. No other work of American art has been reproduced in so many formats. To stand before the actual original is an enriching experience of the greatest sort.
Take advantage of the number of available guides in planning your route through the museum. The collection is so vast that without planning you may miss a number of important works. Allow yourself as much time as possible to enjoy everything. This is not a museum to hurry through. Remember, flash photography is not allowed.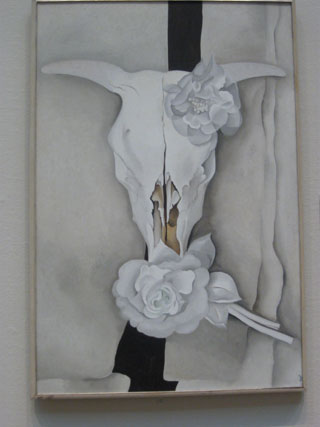 Cow's Skull with Calico Roses
At the Art Institute you will find many of important paintings by many well known artists, including Georgia O'keeffe, Winslow Homer, Edward Hopper, and Raphael. There are also thousands of work of modern and ancient sculpture. Themes include Egyptian, Asian, and native culture from around the world. Some of the collections may sound a little offbeat but don't overlook them. The collection of glass paperweights comes to mind. These are absolutely beautiful works of color and style molded in glass. Don't miss it.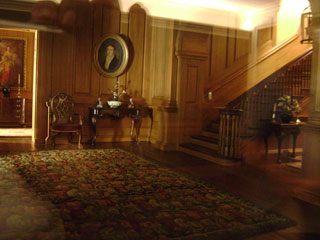 Thorne Miniature Rooms

Another favorite are the Thorne Miniature Rooms. These 68 rooms were constructed in the 1930's and represent a period between the 13th century and the 1930's. The scale is 1 inch = 1 foot. The attention to detail in these rooms is amazing. You feel as if you could actually step into the rooms, have a seat in a chair, and await the return of the residents who have stepped out for only a moment.

We enjoyed lunch at the Institutes Garden Cafe. Dine inside or on the courtyard patio around a garden pool. We would like to thank the staff of the Chicago Cultural Center for assisting with our feature.

Art Institute of Chicago

*
111 S. Michigan Ave.
Chicago, IL 60603
(tell them Southpoint.com sent you)
* Type in "southpoint" with your order and receive free shipping!
Click on image for a larger Chicago map

Best Western River North
is a perfect home base for exploring the windy city.
1-866-940-1794


Top Tours &
Things To Do In Chicago





GO USA cards - unlimited FREE admissions to top attractions!
check our exclusive specials

Travel America Tshirts & More
Arches | Grand Canyon
Glacier-Mtn. Goat

Best Rated Hotels

Advertise with Southpoint