Los Angeles, California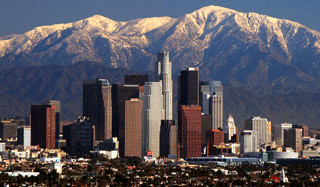 Los Angeles may evoke thoughts of Tinseltown, and people who are only interested in making or being in movies but if that's all it calls to mind, then you're sadly mistaken. Whilst LA may be home of all things entertainment related, there's plenty more to this city than meets the eye. You just need to know where to look.
When it comes to culture Los Angeles may not be up there with New York in terms of sheer quantity of museums and things available but what it does have, it definitely makes use of. Here's a list of places to check out once you've done the Hollywood sign:

Los Angeles Farmers Market - whilst probably not the best place to go if you want to avoid celebrities (the Los Angeles Times named this the best place for celeb-spotting) this 75 year old farmers market is open daily, providing fresh food and a laid back atmosphere just right for hanging out. With over 100 restaurants of varying genres located there, it's a foodie paradise.

Griffith Observatory - sitting on the south facing slope of Mount Hollywood, and overlooking the Hollywood Basin, the recently restored art deco building houses science exhibitions and runs a free planetarium show several times a day. It has been featured in several films, including Rebel Without a Cause and Charlie's Angels.

Griffith Park - America's largest urban park is a favourite with hikers. There are 53 miles of pre-established hiking paths and trails you can take, one of the most rewarding being the trail from the Griffith Observatory to the summit of Mount Hollywood. You'll be rewarded with spectacular views of the Los Angeles Basin. However, the park is a wilderness area - coyotes, deer and rattlesnakes are just some of the creatures you might encounter so be careful!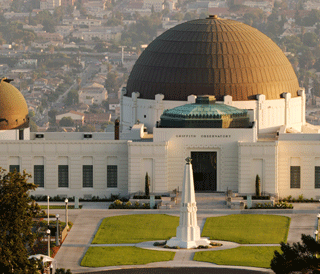 J. Paul Getty Museum - whether you're here for the art or the architecture, you won't be disappointed by the Getty Museum. Having re-opened in 2006 after major renovations, the building houses thousands of European works of art in all forms - sculpture, paintings, photographs and illuminated manuscripts. There is also a museum at the Getty Villa containing art from ancient Greece, Rome and Etruria.

Dialaflight.com offers cheap flights to USA starting from £315, including taxes.

Los Angeles Weather in Realtime:
Scroll with mouse to see forecast


GO USA cards - unlimited FREE admissions to top LA and Hollywood attractions!
check our free shipping special

Affordable prepaid phone cards
Travel America Tshirts & More
Arches
|
Grand Canyon
Glacier-Mtn. Goat
Best Rated Hotels
Advertise with Southpoint
Our travel destination guides at Southpoint.com have top search engine page rankings