Carnival Triumph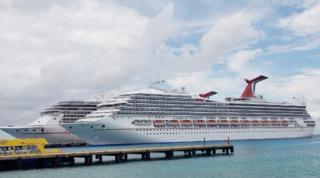 Carnival Triumph Tops After Funship Upgrades
by Tommy Ford

Cruising is a pleasant addiction and Carnival makes it fun and affordable for the whole family. We have enjoyed cruises on several ships and calling a favorite would be difficult. However, our recent voyage on the Carnival Triumph places it firmly at the top.

Launched in 1999 and refurbished with "Funship 2.0" upgrades in 2013, the Triumph is, at 102,000 tons, a
large ship. Large enough that is to provide many opportunities for fun, relaxation, and dining, while lacking the mind numbing immensity of some
the behemoths currently plodding the waves.
On our cruise we shared the Triumph with 3,100 fellow passengers and approximately 1,100 crew members.

Amazing that we never felt crowded and never had to wait in line, save for the unavoidable queues during
embarkation and disembarkation.

First, let's talk about what must be everyone's favorite cruise activity, eating. The Triumph offers a wide assortment of dining choices.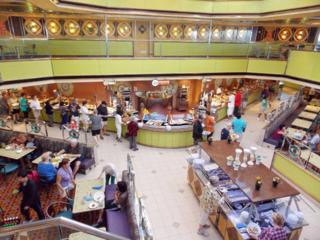 Buffets are one of many meal options
All dining options on the Triumph, with the exception of the Vienna Cafe, are included in your cruise fare. No extra charges except for alcohol and special drinks. Some ships in the Carnival fleet do offer wonderful dining options with a cover charge but on the Triumph almost everything is included!

Like to be waited on hand and foot in an elegantly appointed dining room? The London or Paris main dining rooms are perfect. We dined in the London for dinner and the Paris for breakfast and "brunch." The staff in each is second to none. We are constantly amazed by the level of service offered by the dining room staff. Be sure to stick around for "show time," at dinner when the staff will entertain you with songs and even impromptu dance numbers!

Dining Tip #1: Menus for the main dining rooms are posted outside the dining room entrances each day. These are great for helping schedule your daily
dining choices!

Dining Tip #2: Attire in the main dining rooms on most evenings is "cruise casual." No cut off shorts, swimsuits, or flip flop type shoes. Jeans are OK, as are most T-shirts, but let's keep it classy please! No
obscene or inappropriate logos on the shirts. On Formal nights some guests go all out, gowns, tux's, suits. You'll be OK with a pair of nice pants and a collared shirt.

Looking for something more informal? You're definitely in luck. On the Lido Deck you'll find the South Beach
Club buffet. Breakfast, lunch, and dinner are served along with an assortment of delicious deserts. don't miss the fresh made omelets for breakfast!

Dining Tip #3: A little known activity on most ships is afternoon "Tea Time." Guests will enjoy hot tea, or coffee for the unfortunate few who don't like tea, along with an assortment of pastries. Check your "Fun Times" for time and location. Tea and lemonade are included in your cruise fare. Sodas are extra. Soft
serve ice cream is available 24 hours a day and is always fantastic!

As part of its recent upgrades the Triumph received Guy's Burger Joint and the Blue Iguana Cantina, which
offers south of the border inspired dishes. We tried both and gave them each a big two thumbs up. The food was always hot, fresh, and tasty. Another option is "Chopsticks," which serves delicious Asian dishes, cooked fresh and hot right before your eyes. Chopsticks is easy to overlook, but don't! This is great food and is quick.

One of our long standing favorites on all Carnival ships is the New York Deli. The Deli serves a variety of sandwiches, both hot and cold. The dill pickle spears "on the side" are the absolute best! The Vienna Cafe offers a large assortment of premium pastries and coffees. There's even ice cream! There is an extra charge for these delicacies, but in my opinion the charges are very reasonable. If you're a pizza fan, do not miss the hand tossed pies from the Pizzeria. The dough is freshly made and tossed right before your eyes. Best of all, pizza is available 24 hours a day! I'll admit to having enjoyed a slice at 3:00 am. This is really good pizza. Another dining option which is easy to overlook is The Taste Bar. Located on the promenade near the Casino, the Taste Bar offers samples from different premium restaurants in the Carnival fleet. Wonderful, and won't spoil your dinner!

As you might expect on a ship with 18 bars and lounges, there is a lot of drinking onboard the
Triumph. If you're a non-drinker (count us in that group), there are many drink options available "zero
proof." Just ask your server. Extra costs apply but drinks are generally cheaper without alcohol.

In addition to the many dining options on the Triumph, room service is available 24 hours a day. Check out the room service menu in your cabin, or pick one up from guest services. (a gratuity is appreciated
when room service is delivered.)

You'll need to do something while working on your appetite. The Triumph offers a jogging track, a
mini golf course, and a 15,000 square foot spa. The spa offers many opportunities to exercise or pamper
yourself. We always enjoy the steam room and sauna. Spa staff offers a huge assortment of relaxing options.
There are extra charges for spa services, but you are free to use the sauna, steam room, and exercise
equipment without additional charges.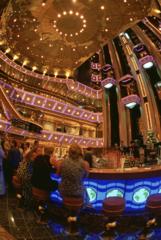 Club Monaco Casino
Entertainment is tops on the Triumph. From Vegas style shows, to comedy, to the ever popular passenger talent contests, you'll need to do some
schedule to fit everything into your nights on board. Consult the schedule in your "Fun Times." The Club Monaco casino onboard the Triumph is always busy. The wife and I aren't gamblers, and you don't need to be to have tons of fun on the Triumph, but for those who enjoy a shot at the slots There's always something happening in the casino.

Be sure to check out the duty free shops onboard the Triumph. Beautiful jewelry, watches, and souvenirs are available tax and duty free. The shops have many drawings and raffles throughout the day. Enter them all if you like, but remember, you must be present to win.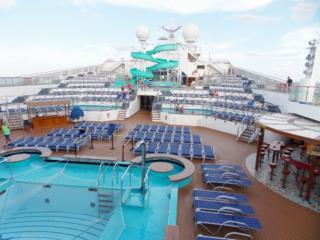 "Twister" Waterslide in background
The Triumph has four swimming pools, seven whirlpools, and a super fun "Twister" waterslide. Port days are great times to enjoy the water and
avoid the crowds. If you're planning on going ashore
the Shore Excursion desk in the lobby has a wide variety of activities to offer in each port. By booking
through Carnival you can be sure the tour vendors have been thoroughly vetted. An added bonus is the ship keeps tabs on tours booked through the cruise line so you won't be left behind if a bus breaks down.

Going Ashore Tip: When in port be sure to arrive back at the ship by the "all guests back on board" time posted in your "Fun Times." Making 4,000 people wait on you is not cool! The Crew will wait as long as possible but at some point the ship WILL leave you!
So keep an eye on the time!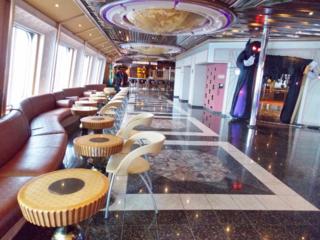 Lots of place to relax
One of our greatest challenge on every cruise is to fit everything into our schedule. There is a lot to do at almost any time of the day or night. What you might not expect onboard with so many fellow cruisers
is that there are lots of quiet spots where you can kick back, relax, read a book, whatever suits your fancy.
The Washington Library is a quiet retreat that hosts a variety of activities. Deck chairs are available all around the ship and it is surprisingly easy to find a spot with little traffic.

Having been on numerous cruises we found the crew aboard the Carnival Triumph to be top notch. The room stewards made sure our cabin was always "ship shape," and answered our requests with a smile. I cannot say enough good things about the staff in the main dining rooms. We were always made to feel welcome and special.

On the way home we stopped at a national chain restaurant and were greeted with a heavy sigh instead of a smile. When our menus were dropped
on the table without a word the wife and I exchanged a glance. The sad expression on my face was reflected
in hers. "Guess we're not cruising anymore." I said. She agreed, but added, "Can't wait to go again."
100% agreed. Can't wait to go again.
On your sailing date arrive at the terminal early or get there late. If boarding is shown as 12:30 and you arrive at 12:30 expect long lines. Arriving earlier by an hour or so or later by an hour or so will reduce your wait time. It is important to note that you must arrive prior to the cruise line's boarding deadline.
A copy of Carnival's
onboard newsletter, "Fun Times" will be delivered to your cabin each evening. The Fun Times are an indispensable tool for scheduling your days onboard. Copies are also
available at various locations around
the ship.
In the mood for a quick
game of go fish but forgot your cards? No problem. Stop by Guest Services. They'll fix you up with a deck of Carnival logo playing cards!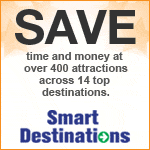 GO USA cards - unlimited FREE admissions to top attractions!
check our exclusive specials

Travel America Tshirts & More
Arches | Grand Canyon
Glacier-Mtn. Goat

Best Rated Hotels

Advertise with Southpoint