Carnival Elation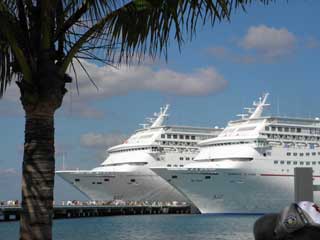 Our ship, the Carnival Elation on the right

A Mountain Man's First Sailing Adventure
by Tommy Ford

Looking for something new as well as an escape from dreary January days our family decided to take a cruise.

Let's get one fact straight up front, I'm a "mountain man." My idea of fun is a snow capped peak, a cabin in it's shadow, and a warm, cozy fire. Cruising has never appealed to me mostly because I couldn't figure out exactly what there was to do on a ship. Still, after many years of "urging" and with all of my objections
intact, I succumbed to my wife's wisdom and booked our family on the Carnival Elation sailing out of Mobile, Alabama for the western Caribbean.

We were a bit apprehensive about boarding, but the process was a breeze. Sure, it was a little time consuming but the staff of the Mobile Cruise Terminal are friendly and helpful. We soon found ourselves walking up the gangway to board "our" ship.

My concerns about cruising disappeared almost as quickly as we boarded. The staff and crew of the Elation could not have been more helpful. Any questions were quickly answered by the ever present crew. We found the ship to be spotless and it remained so throughout our five night voyage. I was amazed that even with nearly 3000 passengers and crew onboard the ship never seemed crowded and it was possible to find quiet corners to read a book or just relax.

Our cabin was small but since we spent little time there it really didn't matter. Plus we had wedged a family of four into limited space. The ocean view made up for the lack of space and the whole family enjoyed watching the ship cut through the gulf waters at night.

Each room has a private bath which was more than ample enough for our group. The room was cleaned and straightened at least twice every day of our voyage. The kids looked forward to the folded towel animals the crew left each night.

Now, back to my major concern-what exactly is there to do on a cruise? A lot is the quick and easy answer. The Elation features a large pool and waterslide. At least three hot tubs. Mini-golf and basketball are available for the more active sorts as well as a jogging track. Large areas of deck are devoted to basking and simply enjoying the passing of time at sea under the warm tropical sun. We're not gamblers but for those so inclined the Elation offers the obligatory cruise ship casino. The cruise director makes sure that almost every moment of the day is filled with some sort of activity. At night the ship comes alive with Vegas style shows, comedy acts, and game shows.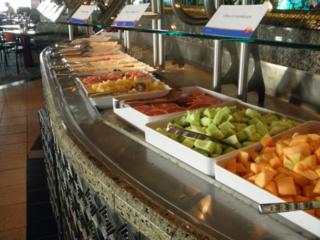 Food and more food
Of course the one thing every veteran cruiser raves about is the food. Food is the main event on a cruise and Elation did not disappoint. The variety was seemingly endless as was the quantity. For breakfast we enjoyed dining in the Lido deck restaurant where food is served cafeteria style. Everything was tasty and fresh. For lunch we hit the Lido again and again, excellent. Out by the pool you'll find Mongolian barbeque which was another new treat for us and one we never missed. The main event at dinner is the main dining room.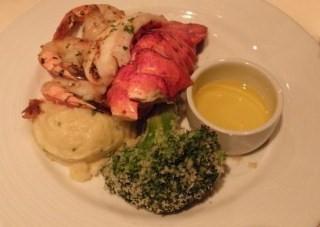 Lobster anyone?
We were seated in the "Imagination" dining room with open seating. Only on the first night did we have to wait and even then the wait was about five minutes. Dining in the Imagination was fantastic. Everything was delicious. Even our two teens raved about the tasty selections. The staff was ever attentive and put on humorous shows for us through the evening. I could spend many paragraphs complementing the wait staff, but will leave it at this, absolutely excellent.

The ports of call on our cruise were Progresso Mexico and Cozumel. If you're thinking about stretching your legs off of the ship I highly recommend you book a shore excursion through Carnival. Be aware that the most popular excursions do sell out so you would be wise to book them well in advance of your cruise.

We were nervous newbies when it came to disembarking in a foreign country where English is not the first language. All of that worry was for nothing. The Carnival crew and the excursion vendors take excellent care of you. Guides with signs will direct you to your excursions departure point. In Progresso we took a bus ride to the Mayan ruins of Chichen Itza, a not to be missed journey. In Cozumel we enjoyed viewing the coral reef aboard the "undersea view." Boarding the ship in both ports was quick and easy. Any purchases made ashore were checked as were our ID's, but that was it.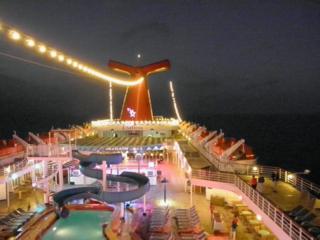 Night life aboard the Elation
All too soon the Elation turned north and we were homeward bound. The dining rooms continue to serve up to the last minute so you won't go hungry. Disembarking in Mobile was a bit slow, but this was because our deck was the last one called. We weren't disappointed at being last because we wanted to spend every possible moment aboard our new home at sea.

We came away from our first cruise experience excited and with a thousand stories to tell the landlubbers back home. We're already planning where to go next when, not if, we cruise again.

Over 50 million people have cruised since 1970.

Nearly 70 percent of those passengers have cruised in the past 10 years.

More than 85 percent of cruise passengers say that cruising is an important vehicle for sampling destinations to which they plan to return.

Nearly 50 percent of cruise passengers will return to the same geographical areas to enjoy a land-based vacation.

Of those who have cruised in the past five years, the average number of cruises has been 2.4 or one every two years.

The Carnival Valor was the first cruise ship to offer wireless Internet access throughout the ship.

*Sources: Cruise Lines Industry Association and Carnival

GO USA cards - unlimited FREE admissions to top attractions!
check our exclusive specials

Travel America Tshirts & More
Arches | Grand Canyon
Glacier-Mtn. Goat

Best Rated Hotels

Advertise with Southpoint